Lancaster Arms AK-47 Rifles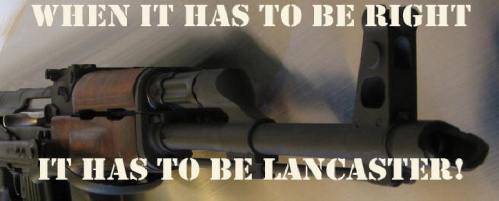 LAKM-47M
Built by Lancaster Consulting
U.S. made Global Trades or Spud Stamped Receiver.
7.62 x 39 caliber barrel, Excellent Condition.
U.S. made Slant Break.
U.S. made G2 Trigger Kit, No Trigger Slap.
Polished Bolt Carrier.
U.S. made Retainer Plate replaces spring or e-clips.
U.S. made black plastic pistol grip (STANDARD MODEL #3072 Subtract $30.00).
Baked epoxy based Gun-Kote over parkerized metal.
Bulgarian Blond Furniture With Matching Wood Pistol Grip
1x 30 Round Magazine.
Headspaced and Test Fired.
Limited Lifetime Warranty.
3073 $940.00
w/ 1mm Stamped Receiver
#3072 Black Poly Pistol Grip Deduct $30.00
3073 $940.00